Hello Again! And welcome back to our 'One Room Challenge' where we are making over our Kitchen.
Thanks to Calling It Home for hosting this challenge and don't forget to go check out all the other blogger's room makeovers as well!
If you missed the first few weeks of our kitchen makeover series make sure to check them out here:
Week 1 / Week 2 / Week 3 / Week 4 / Week 5 / Week 6 (The Reveal)
This week's project was to paint my dining table! This table was actually one my cousin sold to us to re-do and sell. Well, I was in need of one and loved this one, so I bought it from the company! (Haha, I kind of like having a stash of furniture on hand 🙂
Again, I needed to recruit my husband to help tighten everything up on the legs. (He has been such a great help since I am now in my third trimester of my pregnancy!) Once everything was tightened and wiped down, the painting began! Lucky for me I was able to do this part with no problems.
Originally the plan was to leave the top stained, but then I couldn't decide what color to do since I already had a couple different colored wood tones going on in my kitchen already. So I decided to cover it up with paint, and now I'm glad I did!
Once painted the table then got a fairly heavily distressed finish. Mainly around all the edges where normal wear and tear would take place. I didn't want 'spots' all over the top (I feel like sometimes that makes it look like a cow) so I left that all solid.
Friends…sad note. I STILL don't have a set of 4 matching chairs. I have been on the lookout for some for sale, or at a thrift store, but haven't found any that I like. Hopefully now that garage sale season is really gearing up, I can find some! Wish me luck! However, I don't want to rush it, so if I don't find any by the time this challenge is coming to a close I'm not going to stress. I would rather have the right chairs for our place than something I'm only half in love with.
But! On a good note now…my husband and I got our bench made! Oh man was there some weird things that happened when making this bench…and a little bit of frustration. (Ok, quite a lot of frustration!) We will have a DIY tutorial coming up for the bench later so stay tuned for that.
And here is my new Farmhouse Kitchen Table! Ta-da! I'm really happy with how it turned out, and the room is really coming together very nicely. I can't wait for you all to see it!
On top I purchased a new runner already, and there is my dough bowl I already had. I love the look of those turned legs and think the distressing is really fun!
There's Kirby! He can't help but be in half of the pictures I take! And that is pretty much what he did while I was painting. He would lay right next to me while I was under the table with my paintbrush!
We pretty much have most of the items from our list done for this kitchen makeover. My husband needs to paint the windows yet, but it makes it difficult to do that when it's raining out! Then the official decorating will start! Oh am I excited to get that going!
Don't forget to sign up for our newsletter so you don't miss out on the big reveal in a couple weeks!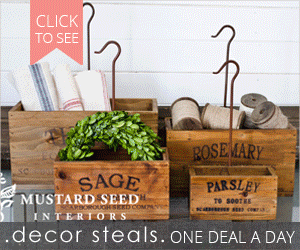 ---
---